Top 5 Reasons To Attend The Next Free Dating Seminar!
Take advantage of valuable "Dating Seminar Only" discounts and special offers. These dating seminar offers are real, substantial, and only available to Dating Seminar Participants.
Dating seminars include International Tour Experts in person, including foreign women, who have been helping thousands of men just like you over the last 20 plus years find their special someone.
Gather valuable dating information, view videos, to help you, together with us, determine the exact best travel option for you, Group Tours, Individual Tours, Executive Tours, etc.
Network with other men, just like you, who have already been through the dating process and are eager to share their experiences with you, or those who are contemplating taking a tour.
Ask as many questions about your personal situation and circumstances and get direct answers from the experts.
Each 4 hour dating seminar is fast paced, fun, and packed full of information about International Introductions, International Tours, Dating Foreign Women, simply anything and everything having to do with International Dating.
Clients from as far away as New York attend Free Dating Seminars in Phoenix
Refreshments will be provided, so come and spend a few hours with us, make some new friends and learn more about the best kept secret in today's constantly evolving dating world.
How To Reserve A Place At The Dating Seminar
Making a reservation is quick and easy. Call (602) 553-8178 ext. 0. Ask to speak with Briana.
Or, if you would rather reserve by email, send your request to Front Desk - AFA.
For directions to a dating seminar location, use the telephone number listed under the venue (locations at right). This is the hotel number (use only for location information to the venue; do not use for reserving a spot at the seminar).
RSVP BY TELEPHONE: ( 602) 553-8178 ext. 0 - ask for Briana
RSVP BY EMAIL: Front Desk - AFA
Meet John and Tanya Adams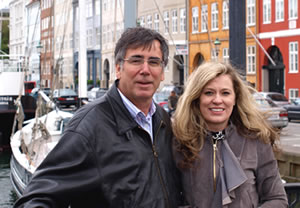 Meet John and Tanya Adams, and their specials guests including other couples that have also successfully met and married via A Foreign Affair!
This may be the most important four hours of your life, and may very well change your life forever! Don't let another year pass of being alone, don't spend another birthday or holiday alone, no more excuses - make this the year that you take that step and do something positive about your love life!
Learn why this is the best kept secret in the dating industry today and how thousands of men just like you have been successful in meeting and marrying their foreign spouses.
Receive valuable discounts and other "Dating Seminar Only" offers that can literally save you hundreds of dollars towards your tour.
Ask questions to John, Tanya and the other guests as to how this really works and what you can do to enhance your chances for success.
Learn first hand what real foreign women who have been through the process really think about American men and leaving their friends and family in pursuit of the man of their dreams.
Enjoy lunch and beverages - never a charge to attend any of the AFA Seminars.
There is no charge but space is limited! Don't hesitate, call Briana at (602) 553-8178 ext. 0 and reserve your spot today! You will receive hundreds of dollars in discounts and also have the opportunity to ask all your questions face-to-face with the utmost experts in the industry today.
What Our Clients Have Said ...
I wanted to take a moment to say how much I really enjoyed the seminar that was given in Santa Clara a week ago. It was very informational and allowed me to really see what AFA is all about and what the Tour provided as a means to meet someone.
Also I shared with you how Liz has provided exceptional customer service since I have been a with AFA. She and Ceasar have assisted me in contacting a few girls and have always been very helpful. It has been because of Liz that I have stayed interested to this point. I'm and looking to attend the Barrenquilla Tour in July.
Once again thank you for the seminar and I am looking forward to my summer vacation tour in BAQ.
Marcus D.